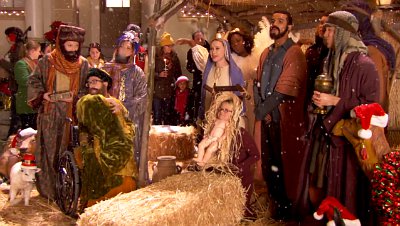 25 days of Christmas. Day 5. Tonight, I watched the Glee Christmas episode for this year (last year? Technically?). It felt like something Trey Parker and Matt Stone made, which made it both funny and ridiculous to watch at the same time.
Can I just say how weird it feels to find that a family member has his own tag on Tumblr?
That people have made:
Tumblr art
Memes
Reaction posts
to his face?
I think this may be what being a Cumberbatch is like.
Reese's Peanut Butter Temptations
25 Days of Christmas. Day 4. This year, I am taking part in my first COOKIE EXCHANGE. I cooked 96 Reese's peanut butter cup cookies. Although the amount of cookies baked was a little…daunting…I recommend the recipe to anyone looking for something peanut-buttery for the holidays. They are delicious and actually very simple to make.
Pro tip: I recommend rolling the balls (hehe…shut up, Katie) and chilling them for 12 hours before putting them in the mini muffin pan.
keyboardsanddarkness asked: Hope I'm not late on the office hours. Hi! My question is this: how do you balance being active online, working on your projects and marketing already-finished projects? As a writer trying to be more public(ish), I feel like I'm floundering as I try to find myself in all those pop words like brand and platform and "interact with your fans!" and so on and so forth.
Forget about that shit. Show your work.

What you do online should be in the middle of a venn diagram between what's helpful and/or interesting to you and what's helpful and/or interesting to others. 

For example: I use this Tumblr as a way to keep track of stuff I'm interested in, and research I'm doing. But I SHARE it in a way that might be interesting to other people. So what I get then is basically a public file folder that benefits both me and the people who follow the Tumblr.

As far as balancing working and sharing, it goes in this order:

1) working 

2) sharing

You do your work, then every day you find a little bit of your process that you can share with others. Depending on where you are in the process, sometimes it's in-progress work, sometimes it's research or something you're reading, sometimes it's a finished work, and sometimes it's a story about what something you've made is doing out in the world.

But again, sorry for the hard sell, but I wrote my whole next book about this. You should pre-order it!
Thank you. Great answer. Really what I needed to hear. And I'm very excited about your book! Why is March so far away? (Note to self: it isn't, it just feels that way, out in 2014 Land.)
11:|
12:||||
13: |||||||||||
14:||||||||||||
15:||||||||||||||||||||||||||||||||||||||||||||||||||||||||||||||||||||||||||||||||||||||||||||||||||||||||||||||||||||||||||||
16: |||||||||||||||
17: |||||||||||||

18: ||||||||||
19: ||||||
20: ||||
21: ||
22: ||
23:
24:|
25: ||
26+: |||
I feel very…alone…at the bottom there. I'm going to start a club with the other two 26+ people.
(via unconsciousplots)
"Christmas crept into Pine Cove like a creeping Christmas thing: dragging garland, ribbon, and sleigh bells, oozing eggnog, reeking of pine, and threatening festive doom like a cold sore under the mistletoe."
—
25 Days of Christmas. Day 3. A great book about the holidays I read within the past few years is "The Stupidest Angel" by Christopher Moore. The quote above is one of many gems from that book.
Any recommendations for good holiday fare?